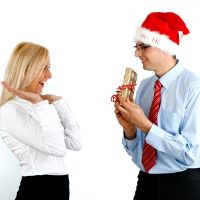 Holidays in the office can be predictable: coffee mugs for your boss, a gift card for your co-worker, fruit baskets for clients. This holiday season, however, may prove to be a little different, as there is less money to spend and fewer co-workers on gift lists.
"In today's economy, you have to be a lot more economical with your gift giving. However, just because people do not have as much money to spend does not mean that they should put the kibosh on the holiday spirit at work," says Lisa Friedman, co-founder of SomeoneSpoilMe.com, an online gift-giving guide. "Not only do you have to cut back on the number of people you buy gifts for, but you also need to change the type of gifts you buy."
Friedman stresses that gift giving in the office doesn't have to be an expensive ordeal. She suggests that co-workers participate in a white elephant gift exchange, where you can only buy functional gifts that are $25 or less. Or offices can implement a no gift-giving policy and instead have everyone participate in a potluck lunch.
If you want to partake in a gift exchange with your co-workers this holiday season without breaking the bank, try one of these 10 affordable, yet creative, gifts:
1. Mouse Pads by Lilly Pulitzer
Spice up your co-worker's desk with a useful mouse pad. In addition to serving as a mouse pad, these cool gifts made by Lilly Pulitzer also feature a 50-sheet notepad that is attached to the top of the mouse pad. Your colleague can take notes and surf the Web at the same time — and he or she can do so in style, choosing from four different designs. ($15.00)
2. Buzz Killer card
Does your co-worker often complain about that annoying "buzz" we all sometimes hear on the phone, conference calls and desktop speakers, or through headphones? If so, get him or her a Buzz Killer card. All you do is put the card on your desk, set your cell phone on top of it and the buzz disappears. ($5.99, plus shipping and handling)
3. You've Been Sentenced
Rather than buy all of your co-workers individual gifts, pony up for this fun game that will entertain the whole office. You've Been Sentenced takes about 30-40 minutes to play — just enough time for your lunch break. Using a deck of cards containing conjugations of funny words, well-known names, recognizable places and wild cards, players have to make grammatically correct and acceptable sentences. Then, they read their sentences aloud and explain what they mean to the rest of players. Everyone votes whether the sentence and justification are legitimate and points are scored. ($25.00)
4. Members Hotel Network membership
Buying for a co-worker who travels frequently? Buy him or her a membership to Members Hotel Network, where he or she will get a savings of up to 20 percent off the best available rate that other hotel providers offer. For every night stayed in an MHN hotel, the member earns cash back based on the number of nights stayed. This is a great gift, especially in this economy. ($5.00)
5. Butt Station Pencil Holder
Perfect for your co-workers with a good sense of humor, this desk organizer is sure to get a laugh. This fun desk accessory includes a pen holder, tape dispenser, memo/business card holder and paperclip holder, and comes in a variety of colors. ($19.95)
6. TRAYblecloth
Another perfect gift for the frequent traveler, the TRAYblecloth is a slip-on tray cover for airplane tray tables. In case cleaning crews don't have time to wash the tray table between flights, the cloth gives the passenger a clean eating and working surface.  It also has pockets to store personal items such as glasses, iPods and magazines while in flight. ($15.99)
7. Knife and Fork Lift
Offices are infamous for catered lunches, vending machines and happy hours galore. This clever twist on the classic knife and fork duo is the perfect gift for your indulgent co-worker. The Knife and Fork Lift are both utensils and dumbbells that weigh 1.5 pounds each. For each bite your co-worker takes, he or she will be encouraged that eating gains weight and exercising takes it off. ($24.99)
8. Panic Button
We all have that co-worker who is constantly stressing out. A great gag gift for him or her is the panic button. An actual red computer key imprinted with the word "panic," it has adhesive backing so you can attach it to any computer key. The next time his computer freezes up and your co-worker needs a key to pound, the panic button will do the trick. ($1.00)
9. Funny Employee Awards
Bring your office holiday party to life by presenting your co-workers with funny employee awards. With 101 different categories ranging from a job well done to poking fun at each other, there's sure to be an award for everyone. ($29.99)
10. Custom water bottle or coffee tumbler
What better way to honor your H2O and coffee-loving co-workers than with a personalized water bottle or coffee tumbler? Create a custom product for your colleague starting with a SIGG aluminum bottle in the color of your choice. Then, choose your art, add a name, pick a font and you're good to go. The best part? These bottles are "green," so it's a gift to the environment, too. ($14-31)
Source: www.CareerBuilder.com
Rachel Zupek is a writer and blogger for CareerBuilder.com and its job blog, The Work Buzz. She researches and writes about job search strategy, career management, hiring trends and workplace issues. Follow her on Twitter: https://twitter.com/CBwriterRZ.