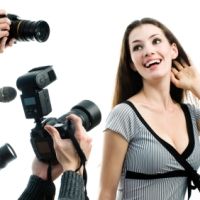 When you think back to your childhood, there are certain icons that stand out from your generation, whether it's a child actor, an event or a favorite song. My memory, for example, is littered with images of My Little Pony and Jem; episodes of TV shows like "Saved by the Bell" and "Full House"; and bands like Boyz II Men and New Kids on the Block.
Yes, each of us can definitely look back to a period of our lives and remember something or someone that stands out. When you catch yourself in one of these memories, do you ever wonder, "Where are they now?"
We often look at the jobs people had before they made it big, but what about the people who made it big — and then we never heard from them again? Everyone has to make a living somehow, so we dug up 10 once-famous figures to see how they're earning a living these days.
1. Bo Jackson
Famous for: Playing professional football and baseball simultaneously, becoming the first athlete to be named an all-star in two major sports.
What's he doing now? Jackson, 46, is co-founder and CEO of the Bo Jackson Elite Sports Complex, an 88,000-square-foot, multisport dome facility in Illinois. He is also among a group of investors and serves on the board at a bank in the Chicago suburbs. He is said to be "rolling up his sleeves" and working with everyone else to get through the financial crisis.
2. Candace Cameron Bure
Famous for: Her role as Donna Jo "D.J." Margaret Tanner on "Full House"
What's she doing now? Bure, 33, has had several small TV and movie roles since her reign on "Full House." When she was 22, she had her first child with her hockey-player husband; she has since had two more. Until now, she has been a stay-at-home mom. She's returning to TV in a new series, "Make It or Break It," which first aired in June 2009 and returns in January 2010. 
3. Fred Savage
Famous for: His role as Kevin Arnold on the TV series "The Wonder Years."
What's he doing now? Savage, 33, still does a little acting, but is mostly behind the scences, directing and producing children's TV shows, such as "Hannah Montana" and "Phil of the Future." He has also directed several episodes of "Ugly Betty" and "It's Always Sunny in Philadelphia."
4. J.C. Chasez
Famous for: Singing as one of the lead singers with the hit boy band 'N Sync.
What's he doing now? Chasez, 33, went solo in 2004 after 'N Sync went on "hiatus." His career is currently more focused on writing and producing music for popular musicians. He's also a judge on MTV's "America's Next Dance Crew." 
5. Lauren Tewes
Famous for: Her role as cruise director Julie McCoy on "The Love Boat."
What's she doing now? Tewes, 54, was on "The Love Boat" until 1985, when she was dismissed from the show after a public battle with drug addiction. In the following years, she had appearances here and there, but spent much of her time as caregiver to her late husband, who passed away in 2002. In 2004, she served as a cheese steward after completing a culinary program. These days, she makes a living doing voice-overs and radio commercials.  
6. Mayim Bialik
Famous for: Her role as Blossom Russo on the popular '90s TV sitcom "Blossom."
What's she doing now? Bialik, 33, has had a few TV roles since her time on "Blossom." She went back to school and earned her Ph.D. in neuroscience from UCLA in 2008. She's now a spokeswoman for the Holistic Moms Network. 
7. Mike Vitar
Famous for: His role as Benny "The Jet" Rodriguez on the movie "The Sandlot."
What's he doing now? Vitar had a few more movie roles in the "The Mighty Ducks" trilogy. Since 2002, Vitar has been a firefighter for the Los Angeles fire department.
8. Nancy Kerrigan
Famous for: Getting whacked in the knee with a metal rod before the 1994 U.S. Figure Skating Championship, a planned attack by a member of rival Tonya Harding's team, hindering her from competing.
What's she doing now? Since retiring from figure skating, Kerrigan, 39, hosted a skating-news program, "Nancy Kerrigan's World of Skating," in 2007 and 2008. She also appeared on the reality show "Skating with Celebrities," and had a cameo in "Blades of Glory." She is now a stay-at-home mom to her three children. 
9. Ricky Martin
Famous for: Latin-pop hits like "Livin' La Vida Loca," "She Bangs" and "Nobody Wants to Be Lonely."
What's he doing now? Martin, 37, rose to fame in 1999 after he released his first English album in the United States. He's had several top-selling albums and No. 1 hits in the past 10 years. While Martin continues to produce music, he's also focused on humanitarian efforts. He's the founder of Fundación Ricky Martin, a nonprofit organization, and he also works with the International Organization for Migration on campaigns aimed to facilitate prevention of human trafficking.
10. Tony Danza
Famous for: His roles on the TV series "Taxi" and "Who's the Boss?"
What's he doing now? Danza, 58, has kept busy with guest-starring TV appearances, a few movie roles, Broadway plans and his own daytime talk show. Danza's latest role will be as a 10th-grade English teacher at a Philadelphia high school for a new reality show. The show, tentatively titled "Teach," is slated to air in 2010. 
Source: www.CareerBuilder.com
Rachel Zupek is a writer and blogger for CareerBuilder.com and its job blog, The Work Buzz. She researches and writes about job search strategy, career management, hiring trends and workplace issues. Follow her on Twitter: https://twitter.com/CBwriterRZ.