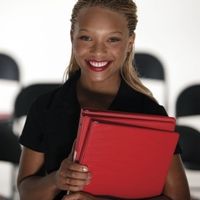 Job fairs are a great way to shop for new job opportunities, network and make personal contacts with recruiters at various organizations.
Here are some techniques recommended by experts to ensure that your performance at the fair doesn't turn into a circus:
Do some scouting. If you've never been to a job fair, attend the next one that comes to your city for observational purposes. Pay attention to recruiters and fellow job seekers to pick up some pointers on how to dress, how to approach a company's booth appropriately and how to successfully work the room.
Do some research. Find out which companies will be represented and learn about them in advance through corporate Web sites or other tools. The more you know, the more you can converse with the company representative in the booth and the more memorable you will be. You will also appear much more professional than unprepared job seekers who make the mistake of starting off their conversations with company representatives by asking, "What does your company do?"
Deliver your key messages quickly. Interviewers are very busy, so don't waste their time. Work on a "sound bite" that says what your skills are, the type of work that interests you and the kind of company with which you want to associate.
Plan some questions. If you have additional time, be ready to ask intelligent questions. Ask how departments are organized and how your skills might be utilized within the framework of the company. Also show you know something about the company by asking questions about a recent product release, acquisition or other relevant news. And make sure to ask the interviewer what he or she likes best about the corporate culture to better assess if this company is right for you.
Get the interviewer's business card. If an interview goes well, you will want to follow up with a letter that reinforces the points you made and the facts you learned. If you made a good impression at the fair, the interviewer probably has made a note to that effect and will remember that you passed his or her on-site screen.
Take advantage of the obvious. Sometimes recruiters will post job openings at their booth and provide written information. Grab all of the information you can on site before you get in line for an interview so you won't waste precious time discussing the obvious.
Dress appropriately. You are going to a job interview, so dress the part. Break out the business attire and shine your shoes. It's better to error on the side of the conservative than to be too casual.
Show your pearly whites. Smile when you meet the interviewer. Give a firm handshake. (If you are prone to sweaty palms, bring a handkerchief to use as a towel.) Keep breath mints on hand and make eye contact.
Be organized. Bring plenty of resumes with you. Keep them in a nice folder so you don't get fingerprints all over them. Have a notebook for memos to yourself.
Avoid the shopping spree. Many companies give out freebies at their booths. It's OK to pick up an item or two, but don't leave the impression that you are shopping for your kids. The main impression you want to make is that you are very interested and very qualified for a job.
Keep lively. The lines may be daunting, but don't fail to maximize this opportunity. Talk to every company that fits your experience and ambitions. If you meet with 20 recruiters, at the end of the day you will know 20 people by name. That sure beats sending a blind resume to "Personnel Director."